Summer rentals on Martha's Vineyard Island are among the most popular ways to vacation here, and have been ever since President Ulysses S Grant rented a summer cottage near the Tabernacle in Oak Bluffs over a century ago.
Although the Vineyard's three towns (Oak Bluffs, Vineyard Haven and Edgartown), and northern Up Island (including Aquinnah/Gay Head) have some year-round residents, many of the houses on the island are owned by summer residents who are willing to do summer rentals when they are not occupying their properties themselves.
Oak Bluffs is among the choicest places for Martha's Vineyard summer rentals. The town has a long tradition of short-term summer visitors from its camp meeting days: witness the charming small Victorian cottages on the Methodist Camp Meeting Association grounds surrounding the Tabernacle.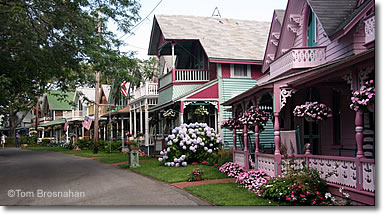 When President Bill Clinton came with his family to Martha's Vineyard for summer vacations during the 1990s, the rage for Martha's Vineyard summer rentals mushroomed, and was increased even further when, in later years, President Barack Obama came here with his family for a summer rental, and later bought a home here.
If a Martha's Vineyard summer rental proves too expensive for you, consider a rental in Falmouth, or in Truro, on Cape Cod. More...
—by Tom Brosnahan
---