The most populous, most-visited part of Maine demands at leasts part of the time you spend in this wonderful state. Here are the places to see and enjoy, starting in the south and going northeast up the coast (map).
The first town over the state line from New Hampshire is known as a shoppers' mecca, but there's more to Kittery than outlet stores. More...
Colonial York Village, the 19th-century beach resort of York Harbor, proletarian York Beach, and Cape Neddick make up this varied town. More...
A long beach, the main transportation center for all the towns south of Portland, and a famous auto museum draw visitors to Wells. More...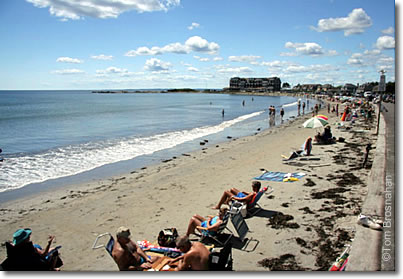 "Beautiful Place by the Sea" is popular with New Yorkers and Bostonians, with walks, beaches and a famous playhouse. More...
A summer resort for President George H W Bush, quaint, lovely Kennebunkport is the centerpiece of this quintessential Maine seaside resort town. More...
Unabashed honky-tonk summer-beach family atmosphere with carnival rides and games, Old Orchard Beach is popular with lots of summer vacationers, especially those from Québec, for whom many signs are in French. More...
Maine's principal port and largest city is great for dining, museums and cruises in Casco Bay and to Nova Scotia. More...
LL Bean, the famous wilderness outfitters, put Freeport on the map over a century ago. It's now open 24 hours a day, 365 days a year. Shopping in nearly three dozen other outlet stores both upscale and downmarket is now Freeport's reason for being. More...
—by Tom Brosnahan
---